Grrl Power #186 – Fingers to maximum steepleage!
on
February 6, 2014
at
6:00 am
So remember this page is coming off of the previous one where Arianna was about to suggest somewhat more adverse effects of Maxima's challenge. Had I planned the page slightly better I would have grouped them differently and had those yellow narration blocks with Arianna saying stuff like "There will be those taking your challenge… as a challenge / looking for revenge / weaving you into their plans." Or something like that, but coming off the previous page I think it makes sense without that narrative nudge. If today is the first time you've seen the comic and you're starting with this page, then it may be a little confusing.
If you happen to be able to read Arabic, I'm sure you'll get a good laugh out of whatever Google translate spit out, compounded by me trying to hand transcribe it. It probably reads like the Arabic onomatopoeia for static now.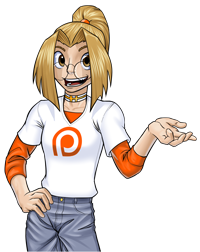 If you enjoy the comic, please consider supporting it over at Patreon.
Patreon is like Kickstarter for microtransactions. Instead of funding one off projects, Patreon is for giving ongoing support to independent artists you enjoy. It creates a steady source of revenue they can come to depend on to help support their projects or even just pay their bills so they can concentrate on making more of what you love. Thank you!