Grrl Power #1130 – Pop up beat down
on
February 23, 2023
at
5:00 am
Occasionally some of the characters (and me) remember that Archon is supposed to be a military organization. Maxima isn't big on all of the rigorous discipline and marching up and down the square, but I'm fairly certain that generally one does not yell at one's C.O. If it does happen, I'd guess that mid-friendly fire is probably your best chance to get away with it, especially if the C.O. is the one supplying the fire.
I know Stalwart's mass control claims might seem to make him more vulnerable to SuperHole's power, but there's some very skilled hand waving on the next page if I do say so myself.
I'm sure you're asking, "Wouldn't Dabbler be constantly abuzz with 'Sweaty Shirtless Men' grappling" notifications? The answer is yes, but it's like tinnitus, always there in the background unless she tries to pay attention to it. Of course, if it happens to people she knows well, she gets stronger pings.
---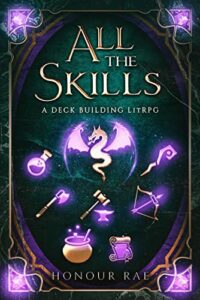 Here's another book I recently finished that I thought was pretty good. All the Skills: A Deck Building LitRPG. It reminds me a bit of Iron Prince, only in that it's a "Zero to if not hero then several steps above Zero" story. Unlike Iron Prince, the MC doesn't relentlessly train like a DBZ character, but it has its own merits.
.
.
---

The January Vote Incentive is up! Time for the quarterly fashion show that Anvil puts Maxima through. Can you detect the theme?
Variant outfits and lack thereof over at Patreon.
.
.
.
---
Double res version will be posted over at Patreon. Feel free to contribute as much as you like.